Barolo & Barbaresco 2005: difficult
Posted on 26 May 2015
Nebbiolo Prima is a fascinating wine event in adding a rare opportunity to taste fully mature wines. The "10-year restrospective" is organised each year alongside the new vintage preview. And so this year we are tasting Barbaresco 2012, Barolo 2011 but also Barolos and Barbarescos from 2005. I have gone through around 80 wines and can can now look back at this vintage after 6–7 years' maturing in bottle.
Initially, 2005 was widely acclaimed as an excellent vintage. The weather conditions were good (bar for intermittent rain in August and September) and it looked like another high-quality "classic" vintage after 2004. I have never quite been a fan, and over the years my experience with 2005s has been of increasing disappointment. The truth is that the wines were slightly out of balance from the beginning. There was high acid, which is normal in a cooler year and hardly a problem with Nebbiolo. But there was also a lot of tannins, and although by that time producers were already taking a step back from the new oak regimes that raged in the region through the late 1990s until 2004, extraction was still overenthusiastic. I found that tight acid–tannins balance in many cases never satisfactorily resolved, resulting in many ungiving, charmless wines that just lacks the fruit. In fact, charm, relaxation, and sensual pleasure is what I've missed in most 2005s and what marks the difference between this vintage and 2004 or 2006. These two are also tight high-tannin vintages, but they were fruitier and richer.
This look back at 2005 was interesting. My previous impressions were confirmed, and not many wines were spectacular even after 10 years. On the other hand, time has graced them, and they now surely drink better than they have in the past. Some can still improve in the bottle, although with the wealth of ageable Barolo vintages on the market (2004, 2006, 2008, 2010…) there's hardly reason to stock up on 2005s. Here are the best wines I've tasted: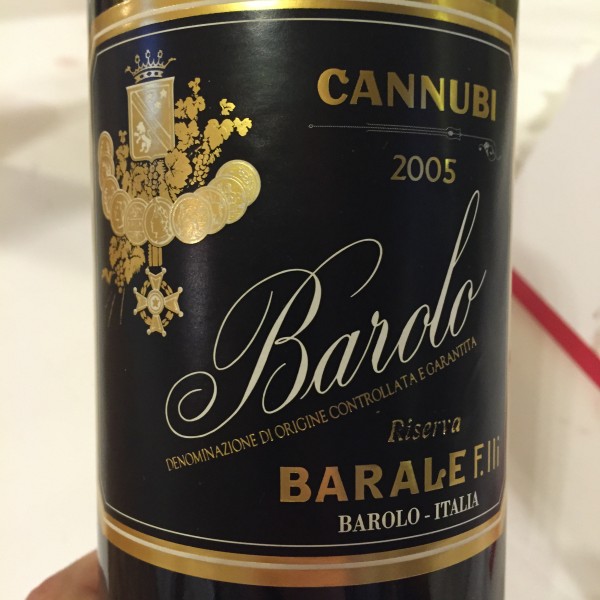 Barale Barolo Riserva Cannubi 2005 – I'm a big fan of Barale's Bussia Riserva bottling. This Cannubi is showing some really good fruit at age 10, and is impressively alive.
Bel Colle Barolo Monvigliero 2005 – from magnum. Monvigliero, and in general Barolos from Verduno, are usually at the lighter end of the spectrum. Yet this 2005 has benefitted from the vintage's tight tannins. It shows the slight vegetal / strawberry character of Verduno, and a balsamic expression of age, but is still a little tannic and drinks deliciously now. A big success for this overperforming producer.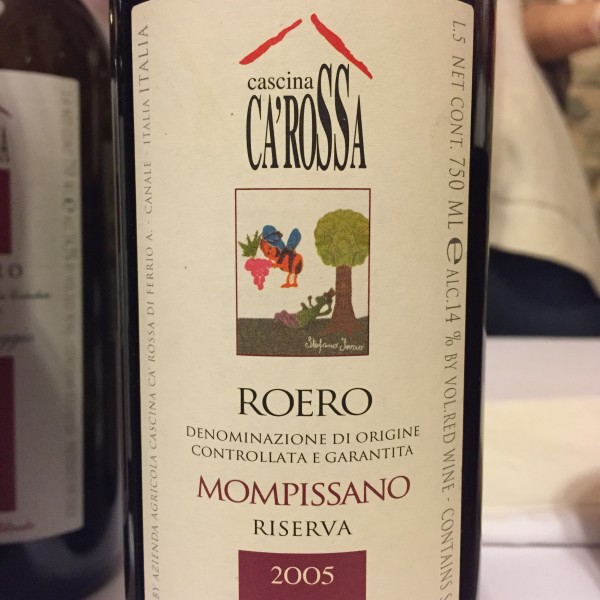 Ca' Rossa Roero Riserva Mompissano 2005 – the surprise of the tasting. You don't expect a Roero to age so well. This was the lightest on show and none the worse for that. Structure is now fully consumed but this scores high for its beguiling strawberry fruit.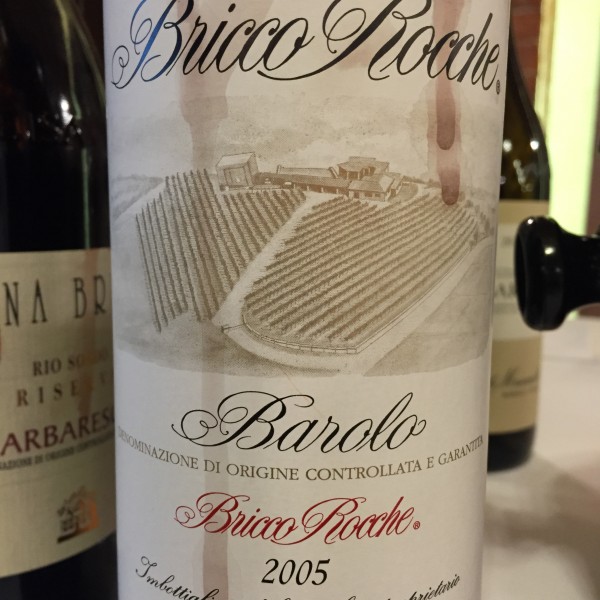 Ceretto Barolo Bricco Rocche 2005 – as you'd expect from this prestigious bottling, this is serious and still quite tight and structured, but I like the juiciness and depth of blackcurrant fruit. Quite above average, and can still age.
Ettore Germano Barolo Cerretta 2005 – I love the Cerretta vineyard and so was keen to taste this. There is a balsamic patina of age but still some tannins on the palate. Good concentration and presence, this one begs for a wild boar roast.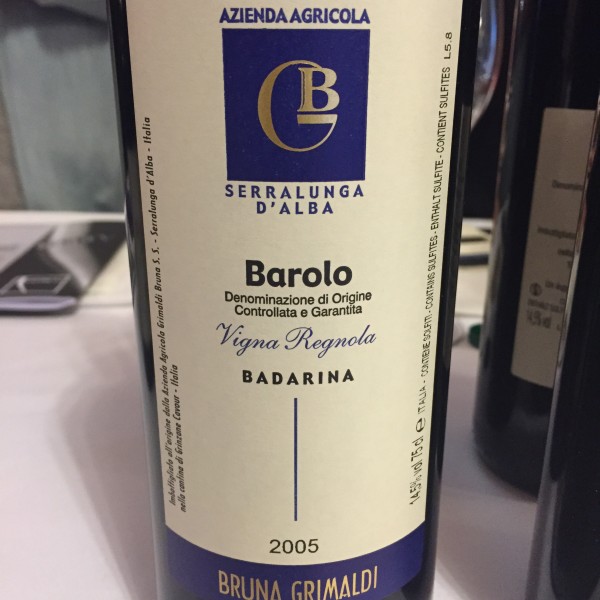 Bruna Grimaldi Barolo Badarina Vigna Regola 2005 – a more modern style here, with sweet blue fruits. Actually I felt the modern approach and new oak (20% only, the producer says) helped the wine in the long run—it's a truism oak tannins preserve the wine. A fine 2005 with further potential to improve.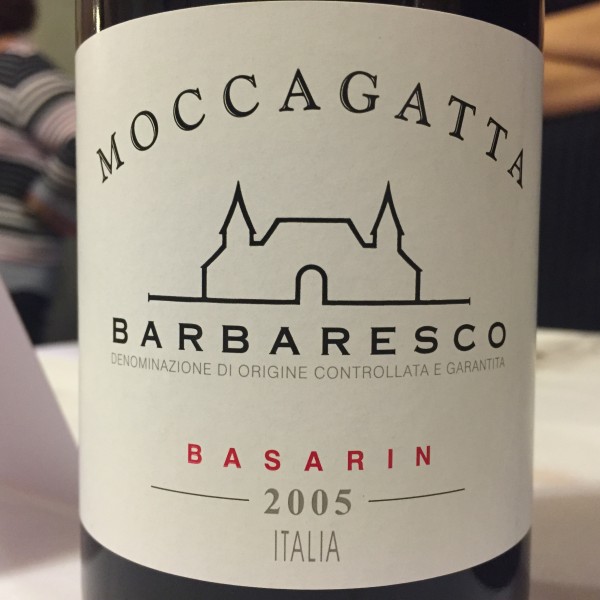 Moccagatta Barbaresco Basarin 2005 – same story as above: what barrique can do for you after a decade! Smells younger than 2005, I would have guessed 2008/2010. Blueberries and blackcurrants: not necessarily a classic profile for Nebbiolo but the wine is balanced and tasty. There are still tannins from wood, but they have worked well.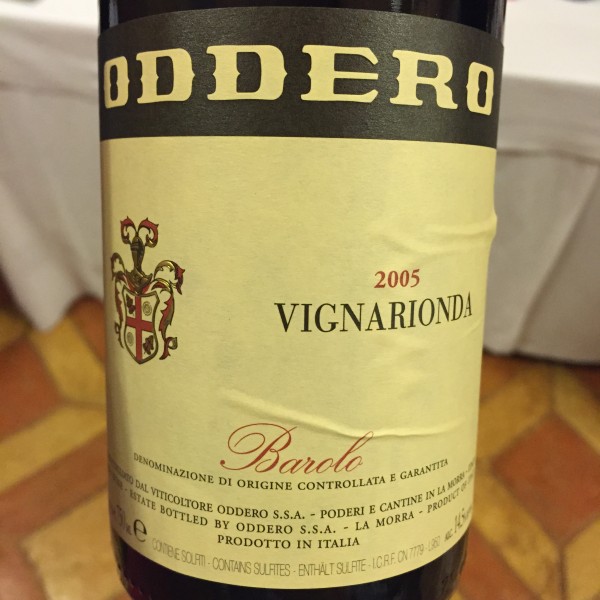 Oddero Barolo Vigna Rionda 2005 – this was no surprise: Vigna Rionda gives one of the most ageworthy Barolo. This still hasn't consumed its tannins. There is a sense of gravitas but also freshness and drinkability. As per the Oddero style this is never fat or sensual but has just poised and energy. A perfect moment to open this.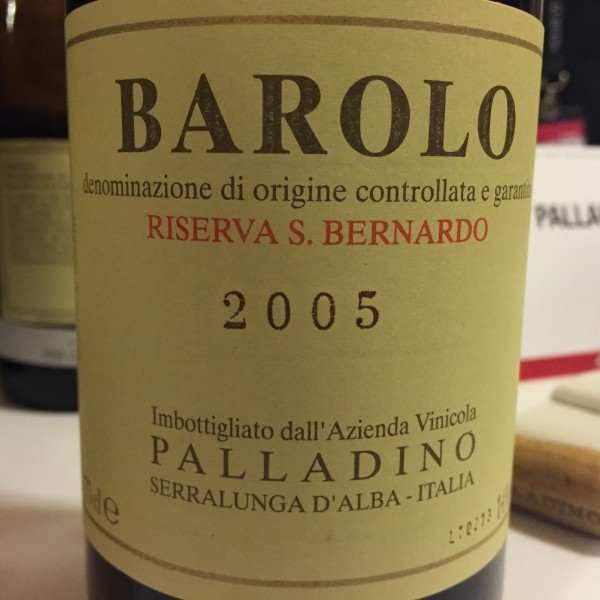 Palladino Barolo Riserva San Bernardo 2005 – I quite like some of Palladino's older wines, and this is a good example. A rather classic style with more evolution than most on this tasting but good length and presence. Very good, has a sense of classicism but not as excuse for poor winemaking.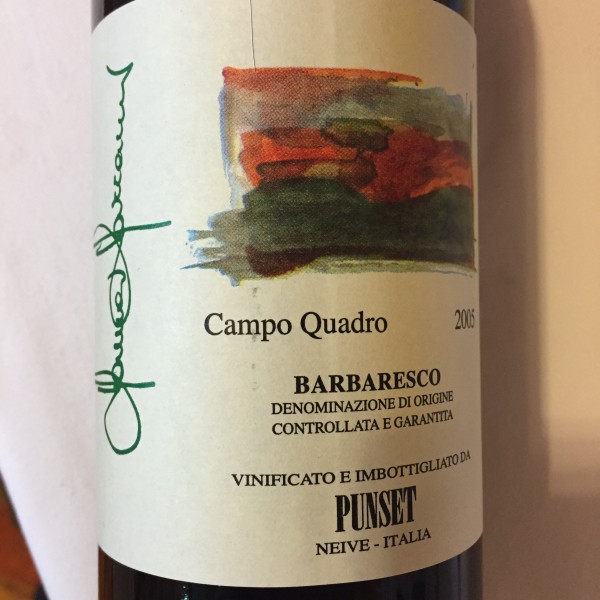 Punset Barbaresco Campo Quadro 2005 – I've tasted this wine repeatedly over the years and it remains one of the best ever to come from vintner Marina Marcarino and one of the best 2005s. Fresh and lovely, this has surprising sprite at age 10. Best after some decanting; a textbook dinner table Nebbiolo.
Rattalino Barolo 2005 –  dried tobacco and sous-bois, quite some evolution but has kept some nice raspberry juiciness. A good surprise.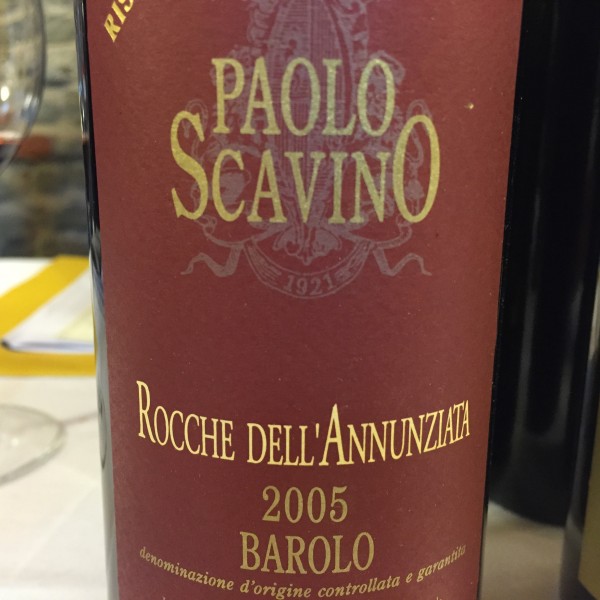 Enrico Scavino Barolo Riserva Rocche dell'Annunziata 2005 – lovely harmony and fullness. Scavino showed some other 2005s on this retrospective which I found still tight and ungiving, and which might be outlived by their tannins (that was always a danger in the overextracted 2005 vintage). This, coming from the warmer zone of La Morra, is showing richer and rounder, almost liqueury. This is an expensive wine but living up to its pedigree.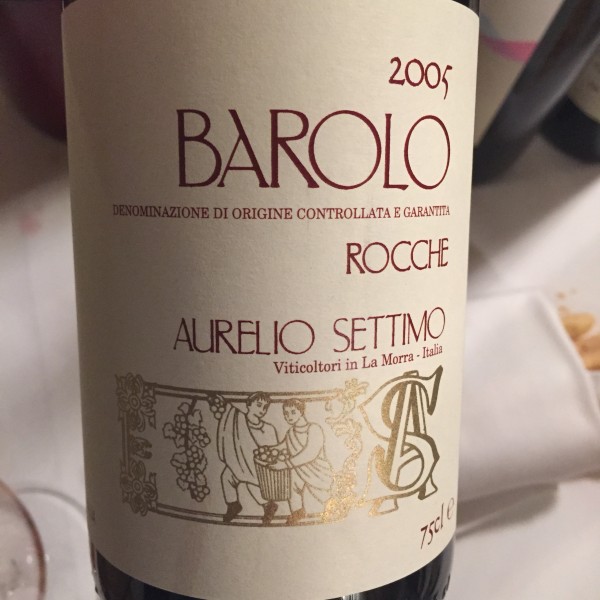 Aurelio Settimo Barolo Rocche 2005 – Tiziana Settimo's wines age very well if sometimes erratically, as the winemaking is fairly oxidative. This 2005 starts with a household lifted / balsamic vinegar note but take a sip and you'll be spellbound by the mineral salinity. Light on its feet, the wine is fantastically long and with haunting fruitiness. The epitome of old-style Barolo.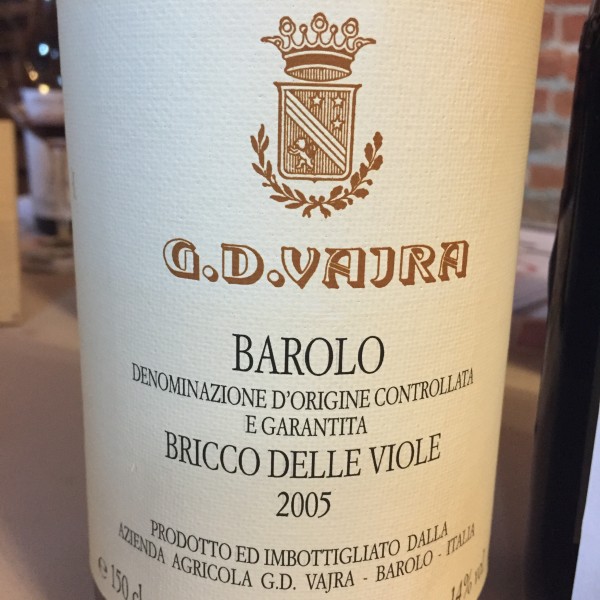 G. D. Vajra Barolo Bricco delle Viole 2005 – this is simply excellent—at the end of the day, the Vajra wines just deliver, especially after years in the bottle. Very complete on the palate, dense but never drying. Not fat (which 2005 ever was?) but has beautiful length and juiciness. You feel the tannins have been hard to handle in its youth but the wine has now sailed to port. Best of tasting.
One wine that was missing from this tasting but which I tasted twice over the last year and that is ravishing at this stage is the Bartolo Mascarello Barolo 2005.
Disclosure: my trip to Piedmont including flights, accommodation, and wine tasting programme are sponsored by Albeisa, the local wineries' association.