Giacomo Fenocchio Barolo Riserva Bussia 2010–1986
Posted on 20 June 2016
One of the major incentives of the Nebbiolo Prima event is the wealth of vertical tastings organised by wineries. (See my coverage of previous editions for verticals of Vietti, Cogno, Oddero, Massolino, and many others). This year I opted for Giacomo Fenocchio, a solid estate in Monforte d'Alba, which was showing six vintages of its top wine, Barolo Riserva Bussia.
Bussia is one of Barolo's most renowned crus but is also misleading; the total area is over 70 ha and the terrain varies so that many sub-crus, which are actual single plots, have historically been distinguished within the Bussia: Romirasco, Gabutti, Colonnello, Mondoca, Bussia Soprana, Dardi Le Rose, and others. While it's undeniable that Bussia produces high-quality Barolo, it also includes less exciting terroir toward the valley floor and it's not entirely justified to speak about the whole macro-area as a grand cru. In fact some producers, such as Giacomo Fenocchio, Barale, and Oddero Poderi e Cantine, separate their best Bussia grapes into a Riserva bottling. This is precisely the wine I tasted at Fenocchio.
The Riserva Bussia 2004 came across as typical for its vintage and its cool long season, with leafy, almost minty notes, and also typical of Fenocchio in being intense and engaging but fairly extracted and woody, too. There was some bottle variation as another bottle was richer and more textured with a black olive character. The wine is a little evolved already, lowish on fruit but with plenty of tannins to keep for another few years; very good not great.
The 2001 is excellent, despite the pushed evolution. It marries attractive orange blossom spiciness in the aroma with more harmony and texture than 2004 (though less than 1999). There is a hint of green acid drive, surprisingly for Bussia which is one of the warmest sites in Barolo.
The 1999 was the best of the younger vintages: I found it more complete than the 2001. This also shows a hint of vegetality but has an arresting depth of colour and flavour. A brown sugar sweetness of evolution comes to the fore from mid-palate on and the wine is complex, assertive, noble, and simple lovely. At the time when many 1999 Barolos have turned around the corner, this is holding strong.
Riserva Bussia 1996 was marred by brett, plus it showed the green, lean, unfriendly nature that 1996s somehow have never shaken off. The wine has good density and still some peppery tannins but is more intellectual than sensual.
I expected a lot from 1989, one of my favourite Barolo vintages, and was not disappointed. The colour is light but not quite browning, and after a very tertiary, truffle-like start the nose develops with some enticing red fruit confiture. The alcohol is warming and the wine is suave and gentle, less forceful than many wines at Fenocchio—just lovely. It looked fully mature at times but there is actually still quite some tannic power left (some would say too much). A great success.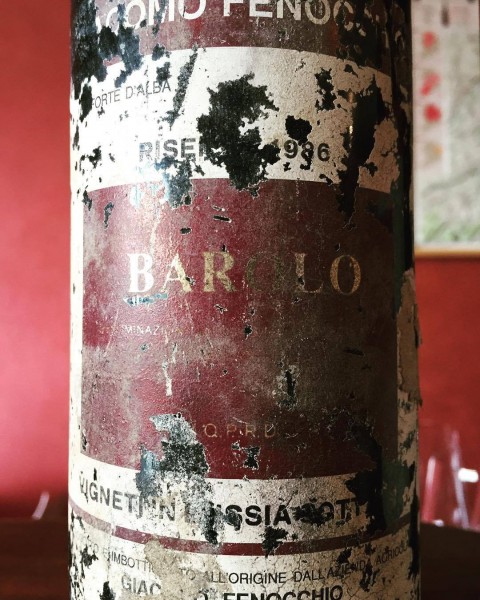 It was a delight to taste the 1986, a vintage with no great reputation in Barolo. This Bussia actually showed extremely well, though it is more advanced than the 1989: leather, old wood, and what the French called confiture du vieux garçon (fruits macerated in spirit). Very good ripeness on the palate with no green notes; a vestige of tannins. Has that slightly sour cherry signature of Nebbiolo. Dries out in the glass but for the age, shows very well.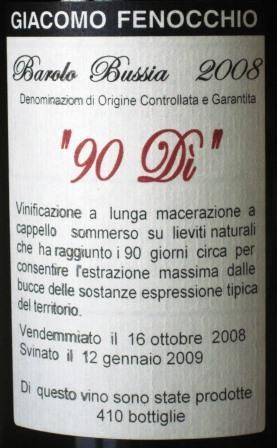 We rounded up the tasting with a look at Fenocchio's latest release, the Barolo Riserva Bussia «90 Dí» 2010. The name refers to 90 days of maceration—sounds extraordinary but it's actually one of several very long macerated Barolos, a recent trend that's gathering momentum. The idea is that very gentle extraction over a longer period will yield differently textured tannins and more Nebbiolo typicity. Aromatically this is surely a textbook Barolo with orange peel, mixed red fruits, balsamic wood, and forest floor, and I also liked the tannins which were softer and better quality than often at Fenocchio in the past. One objection is perhaps too much wood (the wine spent five years in 4-year-old 2,500-liter casks) but this simply needs more time to develop and integrate. An excellent wine, and one to watch in the future.
Disclosure: my trip to Piedmont including flights, accommodation, and wine tasting programme are sponsored by Albeisa, the local wineries' association. Vertical kindly offered by Giacomo Fenocchio.