Produttori del Barbaresco Riservas 2011
Posted on 30 June 2016
My next visit at Nebbiolo Prima 2016 was to Produttori del Barbaresco. This cooperative from the eponymous town is one of the better-known producers in the appellation and one of the overperforming cooperatives on this planet. Its status is roughly equivalent to Cantina Terlano in Alto Adige and its coveted Riserva bottlings from 9 different Barbaresco crus not only provide a fascinating insight into the nuances of terroir but also belong to Barbaresco's most reliable bottlings.
In 2010, Produttori hit the news when they decided to release no 2010 Riserva. On paper, 2010 is numbered amongst the great vintages for Piedmont but winemaker Luca Cravanzola says three days of intense rain in September, with the heaviest rainfall occurring on 18 September, contributed to an accelerated harvest starting 24 September as grape skins were losing tension. Consequently, the vintage turned out "a little diluted" marking a contrast to Barolo, which was able to wait another 10–12 days before harvest and brought home an outstanding crop. (Cravanzola follows by saying the opposite happened in 2014, when Barolo suffered rain before harvest while Barbaresco enjoyed sunny weather).
So it was with great anticipation that I attended a horizontal tasting of all 2011 Riservas—in this warm, sunny year, nothing could prevent the bottling of Produttori's high-end wines. These come from single vineyards located exclusively in the town of Barbaresco and cover about 2/3 of the town's crus—a few other plots, such as Cole, Faset, Ronchi, Secondine, and Martinenga are not bottled as Riserva either because the co-op's members have no vines in them (Martinenga, for example, is a monopole of Marchesi di Grésy, who left Produttori in 1973) or the quantity is too small for a separate bottling.
All of these Riservas are made in exactly the same way, vinified for 28 days in stainless steel and aged three years in large oak casks (botti) as per absolutely Barbaresco tradition. This allows the differences between the various vineyards to really shine through. All are also made in similar quantities between 10 and 16K bottles—a result of strict grape selection as any grapes below Riserva level go into the basic Barbaresco. Cravanzola emphasises that selection is one of the two keys to quality here; the other is motivating growers to pursue high quality in the vineyard, always a challenge with the cooperative system. But Produttori are ready to pay between 4.50 and 5.60€ per kg of grapes in those crus, as opposed to the 1.80€/kg average price for Barbaresco as such. That's a 200% premium—surely worth the extra effort from growers.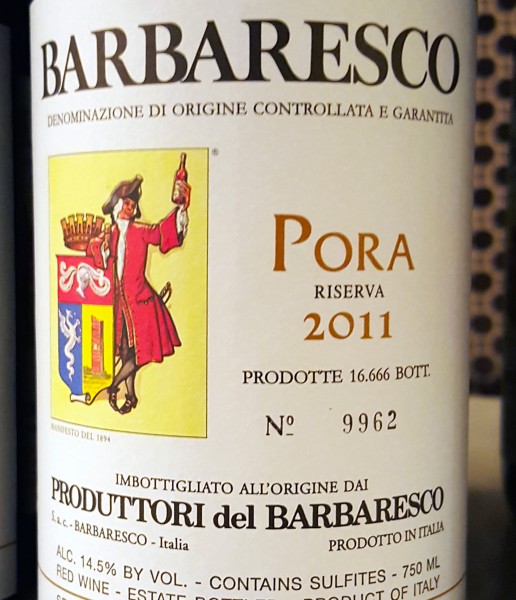 The Barbaresco Riserva Pora 2011 comes from 3 members only and is one of Produttori's most renowned bottlings. (I've had a dozen different vintages that were all delicious, including a stunning 1990). The 2011 is very ripe and rich, nearing 15% alc. and showing an almost pruney, raisiny profile. The tannins have now nicely integrated but there is a hint of dryness and shows 2011 as a decidedly hot year. (Pora is a very exposed south-western site).
Pajé 2011 lies east of town but shows a similar jammy, dried fruit profile although it is less tannic, more drinkable on the palate. Despite the slightly Mediterranean / late harvest style this has freshness and zero evolution. Excellent.
Ovello 2011 – I love this cru, with Cascina Morassino and Cantina del Pino two of my all-round favourite Barbarescos. It's a fresher site, open to the east. Not very aromatic but  the juicy palate has plenty of power, breadth and chew than the two above. Big wine, impressively broad-shouldered without being extracted. One of the best.
Rio Sordo 2011 comes from a lower-lying NW–SE slope sliding toward Tre Stelle and Treiso to the south. Peppery mineral aroma. Sweet-fruity on attack but leaner and lighter on its feet than the above trio. Tastes more classic and varietal with that distinctive bittersweet spicy fruit of Nebbiolo. Rio Sordo is usually a fairly restrained wine with strong tannic backbone but the warm vintage has graced this with some extra fruit. Can be approached now but will keep for a decade.
Asili 2011 – although Asili is an undispited grand cru of Barbaresco, I have rarely been thrilled by the Produttori bottling. This 2011 is a success but is not better than other crus here. Very Nebbiolo on the nose with ripe cherries. Big structure on palate with meaty tannins, bitter grape skins, and a sense of umami. Excellent.
Montefico 2011 – this is a small, exciting cru just south of Ovello characterised by a very limestoney soil that overdelivers especially in warm years (see the Roagna bottling, for example). Less aromatic but has incredible tannic structure on palate and the quality of those tannins is marvellous. Don't touch anytime soon, but I believe will be the best 2011 Riserva here, together with Muncagota.
Muncagota 2011 – this used to be called Moccagatta before the official cru classification. Always one of the most structured, sturdy Barbarescos and 2011 is no exception! But the delight of 2011 is that there's plenty of rich fruit as well: red and black cherries, strawberries, and a hint of darker plumminess. Perhaps the most complete Riserva in this vintage, though very tannic. Doesn't get much better than this.
Rabajà 2011 – at many other wineries this is the epitome of the structured, ageworthy style of Barbaresco, almost resembling a Serralunga Barolo. The Produttori Riserva 2011 adds a little fat into the mixture, which helps cover the potent tannins. This is excellent, but less expressive and impressive than the Muncagota in a similar style.
Montestefano 2011 – a return to the plummy, ripe, hot-vintage style of the Pora and Ovello above, a strange impression as Montestefano is usually a cooler, longer-ripening style. But another bottle showed the same plummy character. Judgment reserved.
We finished off the tasting with a look at 2007 and 2005 Montefico. The former had a whiff of brett and an almost creamy, almondy warm-vintage style similar to 2011s (but with less quality of tannins). The latter is now veering toward tertiary character and the tannins are a little dry, lacking flesh on the bones, consistently with many 2005s. With airing and food this is a very good bottle of wine but it also shows what separates a good vintage from a great wine, such as 2011.
Disclosure: my trip to Piedmont including flights, accommodation, and wine tasting programme are sponsored by Albeisa, the local wineries' association.  Horizontal kindly offered by Produttori del Barbaresco.